Morning Ho's! How was everyone's weekends? After getting a taster of spring arriving last week, the North West of England managed to revert back to some good old rainy weather here. Not that rain's necessarily a bad thing:
Saturday, as I mentioned, I took my two oldest boys to the museum with two of their friends on Saturday. We saw Stan the T-Rex and I resisted buying the cuddly wolf cub toy in the museum shop. Ollie spent the day flashing his 'Rob plaster' that he'd got over the cut on his hand - bless, it's a good job we chose to take friends and their mums that know about my Twi-obsession otherwise the children may have found themselves friendless back at school today.
What Rob plasters should really be used for
Thomas's mum came to collect him from our house a couple of weeks ago after he'd been to play after school. I didn't even think about it, but she walked into the kitchen, clocked FSE and said "Oh, you're not alone in the daytime then?". I sent her home with the Twilight DVD and she's now waiting patiently until I can bear to share my New Moon one.
So, on to Sunday. The day started at 4.30am when Will started being sick. Luckily I'd fallen asleep when the kids did on Saturday night so I happily sat downstairs packing in some extra puter time. He recovered ok but then in the afternoon Harry started. He's still not well now bless him, but MrStan scored big brownie points by staying downstairs with him for the night while I caught up on my sleep.
Actually, I'm getting worried about Mr Stan, yesterday morning he suggested we have a Twilight night last night because he hasn't seen the first film yet (!!!) and this morning, not only did he start reading a piece out of the paper about Rob to me (inserting his own comedy alternatives to what the actual story said), but at the end when it said 'continued on pages 34 and 35' he flicked ahead.
Ok, enough droning about my life. Who's got the New Moon DVD? Have you watched it yet? Any new thoughts? If you don't have it then are you going to? What are you looking forward to the most?
Becky, and anyone else interested - forgot to add, yes, at a guess we'll be looking at somewhere around Mary (Burton area) or Nibbles (West Mids) for Eclipse :o)
Had to pop back and edit because this gif just popped up on Twitter via
@ThinkingofRob
!!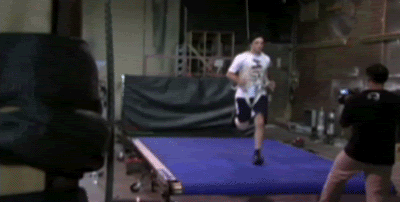 It's from the Eclipse sneak peak, but I don't think it counts as a spoiler :o)