Now I'm afraid that all of today's blogging potential has been sucked out of me by the latest Taylor Lautner pics doing the rounds (you can read my full emotional rollercoaster on the blog I write with my good friend Mary at
Twi-sted
). So today's post is just a couple of lookey-likeys that Jackson Rathbone has struck me with recently.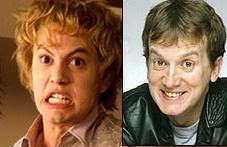 On the left, Brummie comedian Frank Skinner, on the right, Jackson as Jasper.
G'day Jackson, can we expect you to be appearing on stage with 100 Monkeys playing the Stylophone, a la Rolf Harris, any day soon?
Ok, so probably most of you have no idea who either of these people are. I'm too emotionally drained to even care *sigh, thoughts of wet Taycob*, go and Google!