Just thinking it might be worth me trying to get hold of a copy of the book from 'How to Be' for my youngest now. The past couple of days have, frankly scared the bejaysus out of me - although I have managed to keep it hidden quite well with all my laughter.
It's been a source of amusement to me for a while now, that my 2yr old son knows 'Bob' and will point him out and say his name. It's also got quite serious once when we had a tug of war over my Twilight bookmark with him crying out 'Bob! Bob!' as I tried to snatch it back form his chocolatey hands. Yesterday, however, I feel we may have crossed a line.
Now how could this have happened? I'm sure that I don't expose them to too much of my Rob obsession, I mean, we're a pretty normal family. The oldest two play football each week, here's my eldest with his 'player of the week' trophy:
Everybody's kitchen walls look like this, right?
And I think they look quite normal. For example, here's Harry, the cause of my current concerns: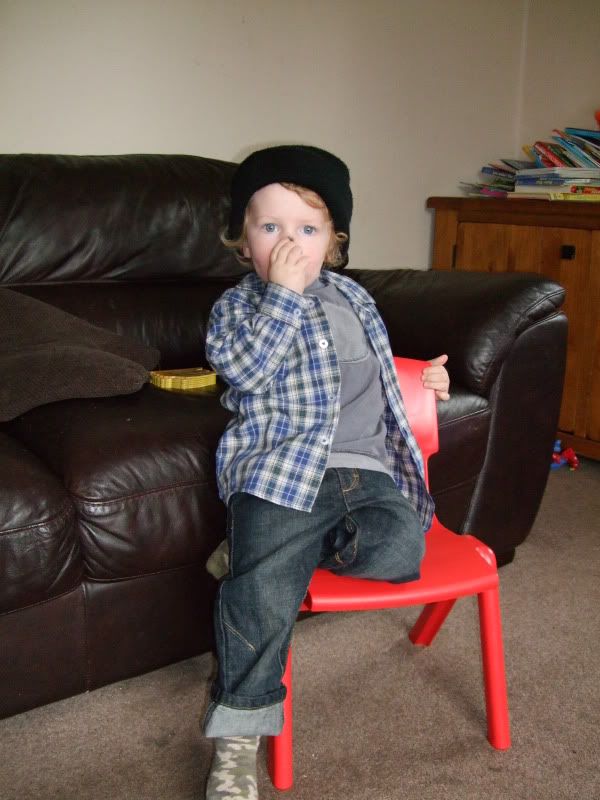 Just got my regular clothes & beanie on in the house...
So, my concerns began yesterday andm I have to admit I was more than a little amused by it. Harry was, under very close supervision, looking at my New Moon Movie Guide when he came to a picture of Edward & Bella. He pointed to Edward and said "Bob!". Aww, doesn't it make you swell with pride?! Then he pointed to Bella and said...."Mummy!" OMG, I had a friend here too and din;t know whether to laugh or be embarrassed. I laughed. Then I swore that I hadn't taught him to do it (TRUE!).
Then, yesterday afternoon he embarked on this little public display of affection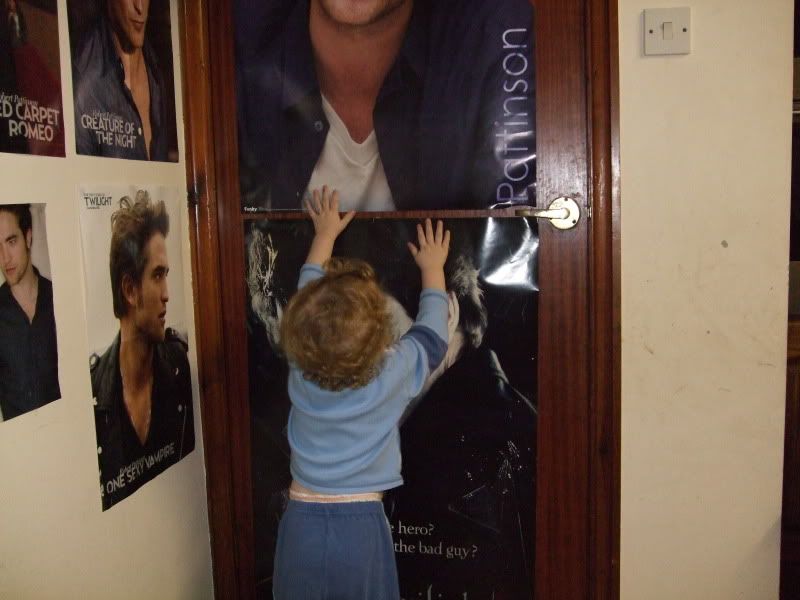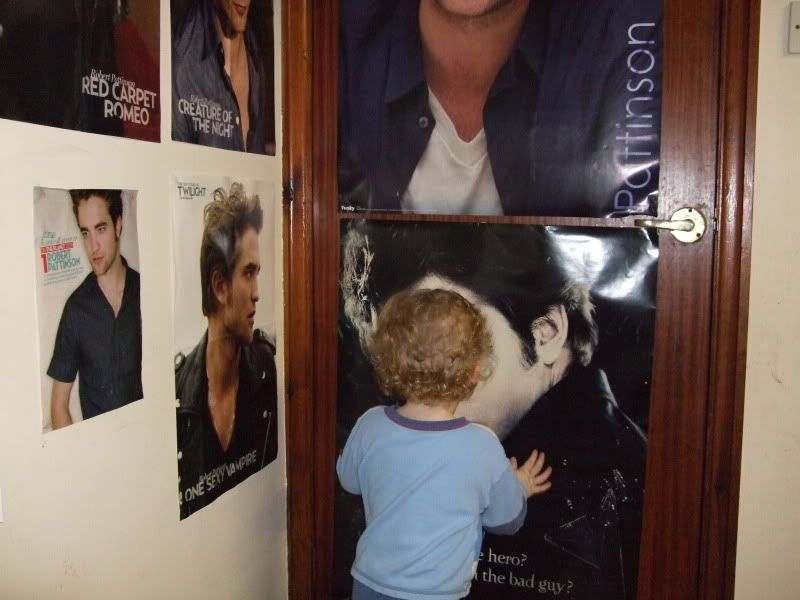 Yep, he actually did kiss Rob, and nope, he didn't learn it from me. I don't do that. Well, not with the kids in the room anyway.
Today I decided to erm, expand and update Rob corner a little. All was going well and Harry was most appreciative until I took my Twilight poster down to replace it with a New Moon one. Then he went mad, shouting "BACK! BACK!". I giggled nervously before trying to calm him down.
"It's ok look, I've got this new one to put up"
*unroll it to show him*
"WOW!"
Worrying, I think you'll agree. Oh, and he's been doing the Bella/Mummy thing all day again too.
Maybe it's time to tone things down a little, before he grows into Art in How To Be??!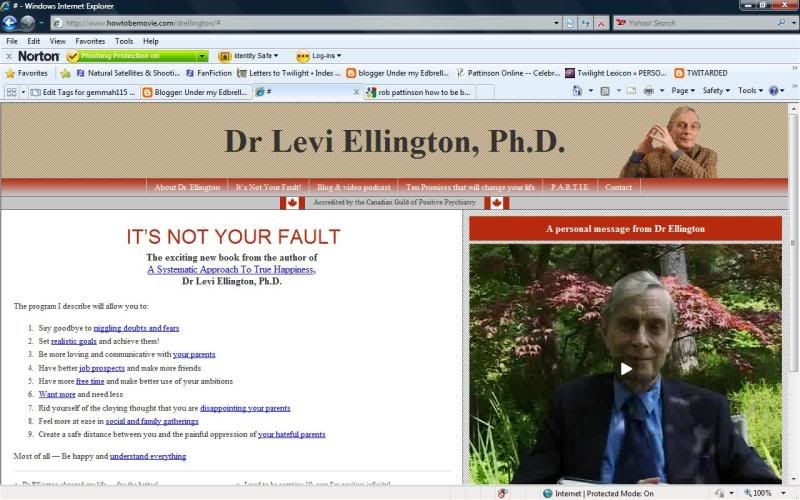 "Dr Ellington? Yes I'd like an advance booking for my 2yr old please..."